Hello!Takuya-san!


Recently,I start to use Inkdrop Desktop and Mobile App a lot.
Always thanks for your great development!
By the way,I found some strange behavior when using insert images.
Bug report
When I try to insert an image with Inkdrop, the Desktop app itself becomes inoperable, and for some reason, the image selection window appears under the app-window.
Gif: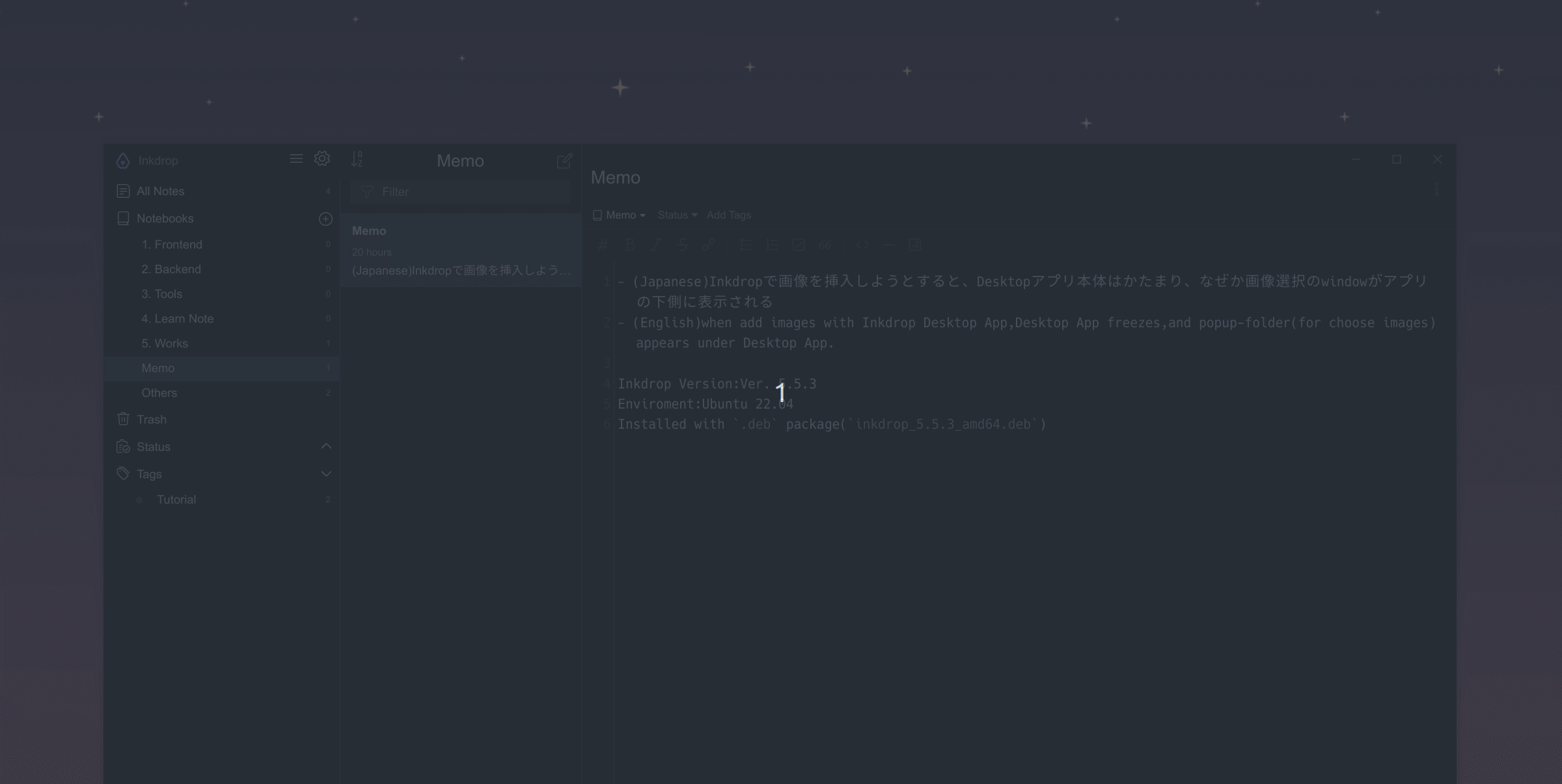 How to reproduce
Start Inkdrop Desktop App,with only default plugin.
On the Inkdrop edit screen, click the "Insert Images" button.
The Desktop app itself will no longer be inoperable, and a window for selecting images will appear under the Desktop app🤔
The problem is that the image selection window always appears under the app, when I try to import an image, and it takes a extra moment to select the image.
While this is a minor issue,but it may reduce user experience a bit…
Environment
Inkdrop Version:Ver. 5.5.3
Enviroment:Ubuntu 22.04 (with X Window System(X11))
Installed with .deb package(inkdrop_5.5.3_amd64.deb)
(In devTools Console, There are no logs when this behavior ocurres.)
When I first encountered this behavior, I suspected that this behavior was environment-dependent.
So,
Turn off all Gnome extensions
Uninstall all inkdrop plugins
Restart the PC itself
Check and compare the behavior when selecting images, files, etc. with other GUI applications (in the end, I find that this behavior occurred only with Inkdrop App)
However, this behavior was not fixed, so I reported it as a bug🐛
Thank you for reading!