Hi! Awesome application.
There is something that I'm missing though moving from Obsidian.
Would it be possible, either as plugin or main feature of Inkdrop, to have table formulas?
Table formulas work similar to how you do math in Excel, where you can place the sum of something in a different cell.
An example: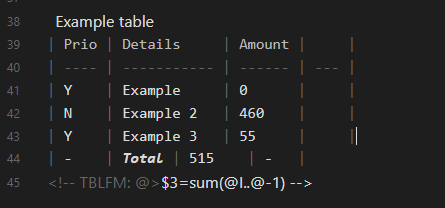 Here it takes the three cells under "Amount" and after you run a command to evaluate the formula, it places the total in the "Total" row.
I had a look into making a plugin for Inkdrop myself, but after having a look at it, it's too advanced for my current knowledge so I don't know how or where I'd even start