Bug report
Hi! I just accidentally deleted a note because Inkdrop didn't behave the way I would expect. I was able to remove my note from the Trash, so no lasting damage, but if I hadn't noticed that the wrong note was deleted I might be in trouble.
The problem is that when you have selected one note and you right click on a different note and select Trash: The context menu appears above where you right clicked, but the Move to Trash action will apply to the highlighted note.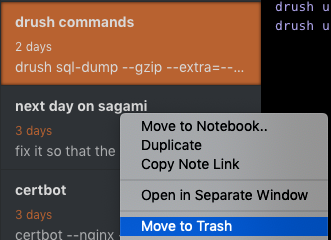 In the above screenshot for example, the orange note is the one that gets deleted.
Info
Platform: macOS
Platform version: Mojave
App Version: 4.1.0
Reproduce
Left click on one note, then right click on another and "Move to Trash".
I believe this behaviour should be changed so that whenever I write click on a note the selected (orange) note is changed to be the note that I right clicked on.