Bug report
I'm trying to copy the table that is shown in the page https://nmap.org/book/scan-methods-ip-protocol-scan.html and the output of the nmap command shows the value open|filtered, however, when trying to add the value like that in the table, it just causes for the first tick and word to appear and the rest is not displayed.
I understand that it's caused by the pipe character, I thought that adding it within a code block would have avoided the situation, but that's not the case.
Wondering if this might be an issue with the interpretation in Inkdrop or just Markdown in general.
Info
Platform: Linux
Platform version: Arch
App Version: 5.2.1
Reproduce
In a note, add the following text
| Probe Response | Assigned State |
| ------- | ------- |
| Any response in any protocol from target host | `open` (for protocol used by response, not necessarily probe protocol) |
| ICMP protocol unreachable error (type 3, code 2) | `closed` |
| Other ICMP unreachable errors (type 3, code 1, 3, 9, 10, or 13) | `filtered` (though they prove ICMP is open if sent from the target machine) |
| No response received (even after retransmissions) | `open|filtered` |

The expected output (taken from https://parsedown.org/demo with the text above)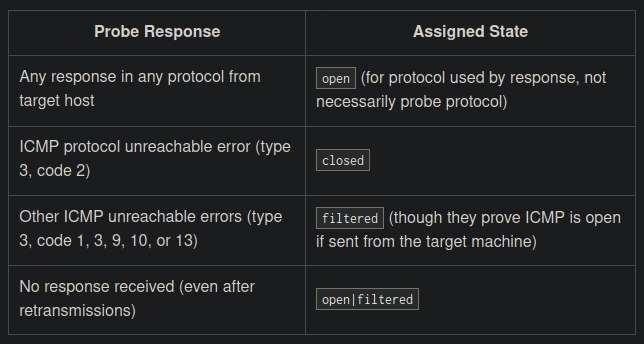 The current output


Adding a backslash before the pipe causes for the output to be displayed as