It is possible to give multiple tags that are exactly the same in a note tag. This has caused multiple identical tags to appear in the tag tree.
Because I unintentionally created multiple identical tags, the categorization of the notes was divided and I did not get the expected search results.
When I entered the condition tag:hoge in the search bar, it only returned results for a single hoge tag.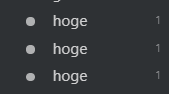 Info
Platform: Windows
Platform version: 10 pro 2004 build 19041.746
App Version: 5.2.1
Reproduce
Entering tags in notes.
Continue typing the same spelling of the tag without using suggestions and enter.