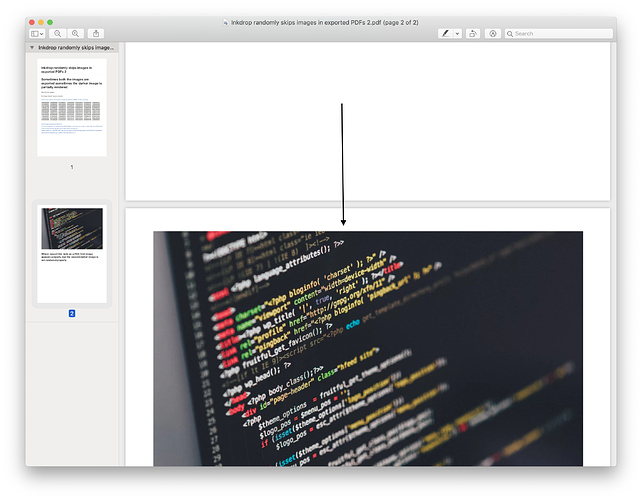 ---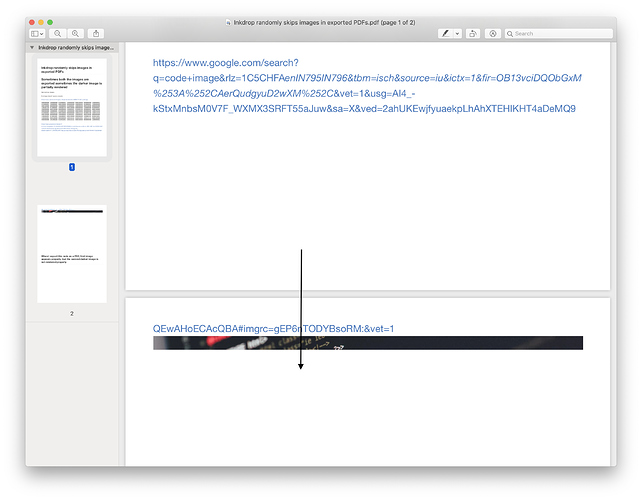 Bug report
During export as PDF, sometimes both the images are exported properly, sometimes the darker image is partially rendered.
Info
Platform: macOS Mojave
Platform version: 10.14.3
App Version: (3.22.4)
Reproduce
Paste the below markdown as a note and try to save as PDF. If you try to export as PDF three times, in one of the saves the second image is not exported properly.
# Sometimes both the images are exported sometimes the darker image is partially rendered

Next are two images. You should open each one in your browser, copy them and paste through clipboard.

the image doesn't appear properly.

https://www.wired.com/images_blogs/wiredscience/2009/11/seti_code.jpg

![clipboard.png](inkdrop://file:px4deDzxx)

https://www.google.com/search?q=code+image&rlz=1C5CHFA_enIN795IN796&tbm=isch&source=iu&ictx=1&fir=OB13vciDQObGxM%253A%252CAerQudgyuD2wXM%252C_&vet=1&usg=AI4_-kStxMnbsM0V7F_WXMX3SRFT55aJuw&sa=X&ved=2ahUKEwjfyuaekpLhAhXTEHIKHT4aDeMQ9QEwAHoECAcQBA#imgrc=gEP6nTODYBsoRM:&vet=1
![clipboard.png](inkdrop://file:TRap1Ed4t)





## When I export this note as a PDF, first image appears properly, but the second darker image is not rendered properly